DMG MORI CLX 450 V6 Stock Machine Offer
The new benchmark in universal turning – with direct measuring system and IoT connector in standard. A compact design with a big working area.
Highlights:
Sub-spindle
Y-axis
Fanuc 0i-TF with 19" 3D-touchscreen
Travels

X-axis: 276 mm
Z-axis: 755 mm
Y-axis: ± 60 mm

Main spindle power 25,5 kW, 4000 rpm
Max bar diameter through the spindle: 80mm
12-positional turret with Trifix quick change system
Chip conveyor
Bar package (parts catcher, bar feeder interface)
Linear scales (Direct measuring system)
Marposs tool setter
Pneumatic workpiece ejection device
Service camera
IoT (Internet of things) connector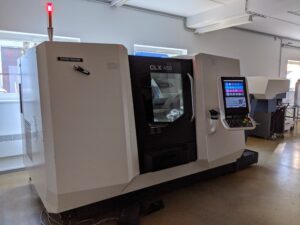 Price before: 177 350 €
STOCK MACHINE PRICE: 139 680 €
Installation and freight included. Machine is located in our stock-office in Tallinn.
More information:
Maitis Märss
+372 520 9121
info@demek.ee